The Brazilian guitarist Kiko Loureiro is perhaps one of the first names remembered internationally when it comes to guitar, his virtuosity and his hugely successful works, such as Angra and now Megadeth, Kiko is always remembered as one of the world's guitar heroes. In a phone interview, Kiko Loureiro spoke with #VamosMusicalizar about his entry in Megadeth, check it out:


Dante Albarelli: Kiko! What a great honor! I'd like to know if the different crowds you play for all over the world have had an impact on you, because you are from Brazil, where people sing really loud and you have top play in Europe, where people maybe don't like to sing so much and they prefer to just sit quietly and listen. Has that had an impact on you?
Kiko Loureiro:
Well, since the beginning, because I've played in Europe since the 90's, so I had this feeling of being really different. When I started playing with Angra in Europe for the first time, and also Japan which is very different as well. I'm from Europe and from South America and even in South America the countries are a bit different, and in Brazil the cities are a bit different as well, so I kind of learned expectations. I think for me, the biggest thing for Megadeth is US market and Canada, because with Angra I played only a few times in US, we did some festival. And the fans are used to european progressive metal, so I was exposed to a new kind of audience. I've been looking at the chances over the years, but still, Japan has changed a lot in 15 years: I remember doing theaters with seats, now they're more relaxed, like jumping and stuff. But yeah, it's always a big different when you play in South America. For Dirk it was the first time in South America, I think that if you playyour whole life for european crowds and the suddenly you go to South America, it's a big deal.
For me, I was that guy in the crowd, so I know. Actually, I was the south american fan in the crowd in 91', watching the Rust In Peace Tour, that's cool, right? I know the difference, sometimes it's very shocking, mainly when you are touring South America and suddenly you are in a club in Germany and the guys are just standing and watching you, it's kind of weird. But then you play a few more times and you enjoy it as well, it's challenging because you have to conquer those people. You know they enjoy, they are true Metal fans, it's just a different way they have to see the shows.
Dante
Albarelli
:
I've seen in your Instagram stories that you play the flute and piano, and that you play a lot of Jazz standards and Bossa, brazilian music. Do you do that regularly?
Kiko Loureiro:
[Laughs] No, the flute thing was just a little bit, I just practice some scales. The piano, there was a time I used to practice, so I know how to play some chords, some little things. I'm not a great piano player, I don't call myself a pianist, but it helps me a lot to compose. Actually I did the Megadeth song, Poisonous Shadows, the ending piano part, I recorded it. And it sounds like a guy who doesn't play the piano, there is no super-fast stuff or anything like that, but that's the way I play. I compose a lot of stuff in the piano, but I'm not a virtuoso. I cannot express fast scales.
The flute was just like "how can I get a distraction from the guitar?". Sometimes I get tired of playing guitar, you know, the pressure of it. Some times I just want to play something else in a different instrument and have fun. I thought, "why not?". It's small, easy to carry in the luggage, and play some standards like you said, and then try to play the same things on the guitar, Jazz and some brazilian stuff that I like a lot, I was more into it in different times of my life.
Dante
Albarelli
:
Ok, great. Probably you get this a lot, but what is your favorite Megadeth song to play live?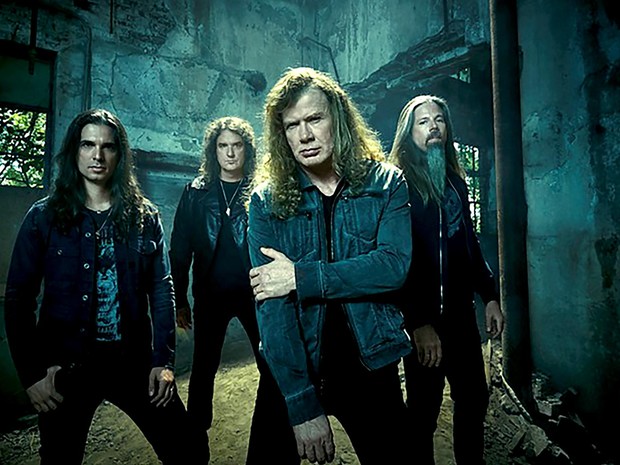 Kiko Loureiro:
Man, that's something people ask me and it's very hard. I love top lay all the songs, first of all. They are all hits and great songs, and they all have different vibes, I get to see the different moments of the band composition-wise. I like to play the "Dystopia" song a lot, I think it has a little bit of everything, like a cool riff and then it changes in the end to a different groove, a cool ending part with me and Dave playing the guitar part, it has a lot of backing vocals and good solos. It's a song that is like a collection of ideas, it's a cool song to mention. But, you know, Symphony or Peace Sells, people sing along. I like to play Sweating Bullets because I see the crowd singing the whole verse, that's awesome.
Dante
Albarelli
:
That's awesome, Kiko! I just have one more question: how does it feel to fill the shoes of some other great guitar players like Chris Poland, Broderick and Marty Friedman?
Kiko Loureiro:
Well, first of all, it's a tough job. I'm a big fan of them, and had to learn their solos, it's great. It's a band that has these great guitar players, Al Pitrelli too. It's a great legacy of guitar players, and I'm there too, so I'm very happy and blessed, I feel great about that. It's not an easy job to play those solos as close to the original tape, but still I try to play the way I hear. I don't go through every single note to be an exact copy, but I try to be as close as possible the way I hear the solo. So I enjoy it a lot. Marty has a sort of melodic sense and beauty in his solos, the structure of his solos are great. Chris Poland has this fusion kind of thing, very fast and very difficult to imitate. In fact, for me it's much more difficult to imitate Chris Poland's solos.